vSAN 6.6 이전 버전(6.6 포함)에서는, HPE Gen9 장비에서 pass-through (HBA or JBOD) mode 사용시에 LED Blinking 기능이 정상적으로 작동하지 않는 문제가 있었습니다. 그래서 실제로 디스크의 로케이션을 찾기가 어려운 부분이 있었는데요,
vSAN 6.6.1 버전에서는 pass-through mode 사용시에도 LED Blinking 기능이 정상적으로 동작합니다.
What's New
VMware vSAN 6.6.1 introduces the following new features and enhancements:
VMware Update Manager build recommendations for vSAN. Update Manager can scan the vSAN cluster and recommend host baselines that include updates, patches, and extensions. It manages recommended baselines, validates the support status from vSAN HCL, and downloads the correct ESXi ISO images from VMware. 

vSAN requires Internet access to generate build recommendations. If your vSAN cluster uses a proxy to connect to the Internet, vSAN can generate recommendations for patch upgrades, but not for major upgrades.

Performance diagnostics. Performance diagnostics analyzes previously executed benchmark tests. It detects issues, suggests remediation steps, and provides supporting performance graphs for further insight. Performance Diagnostics requires participation in the Customer Experience Improvement Program (CEIP).

Increased support for locator LEDs on vSAN disks. Gen-9 HPE controllers in pass-through mode now support vSAN activation of locator LEDs. Blinking LEDs help to identify and isolate specific drives.
Server Platform

Controller

Pass-through

RAID

Feature

vSphere 6.0U3 (async-hpsa)

vSphere 6.5U1 (inbox/async-nhpsa)

DL and ML Gen9 servers

P440, P840, H240, P440ar, P840ar,H240ar

Yes

Yes

Get Disk Location

Yes

Yes

Enable/disable Locator LED

Yes

Yes
다만, 아래와 같은 구성에서는 지원되지 않습니다.
HPE Synergy D3940 storage module

HPE Apollo servers

SAS expanders

External JBOD connected to any HPE server platform
그래서 겸사겸사 테스트를 한번 해봤습니다. 
테스트 환경은 HPE DL380 Gen9 / P440AR (Driver 2.0.16 & FW 5.52) / Pass-through mode 입니다.
테스트 방법은 vSAN 에 포함되어 있는 스크립트를 통한 Error Injection 방식으로 임의로 장애상황을 만들었습니다. (방법은 요 Link 를 참조하세요)
Cache Tier Disk PDL 상황, 아래와 같이 Permanent disk loss 로 표시됩니다.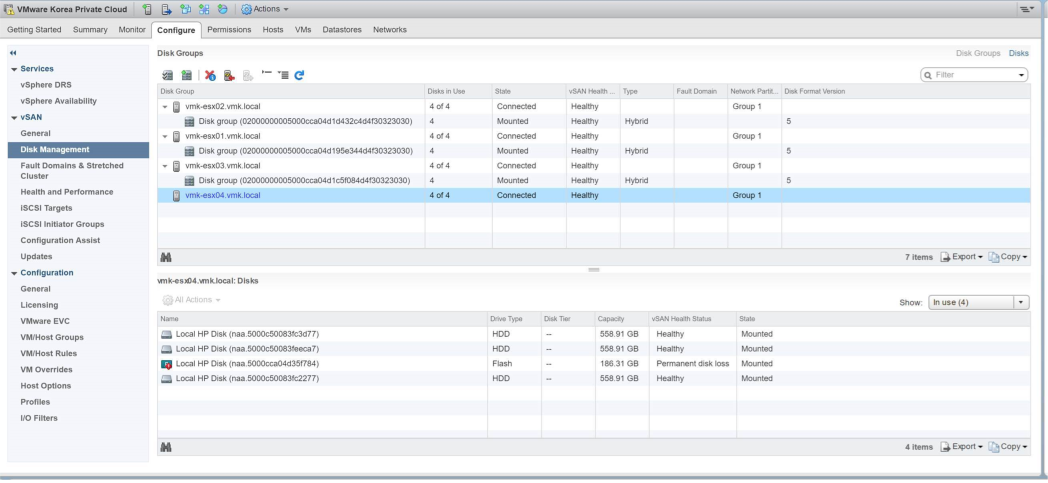 Resync 발생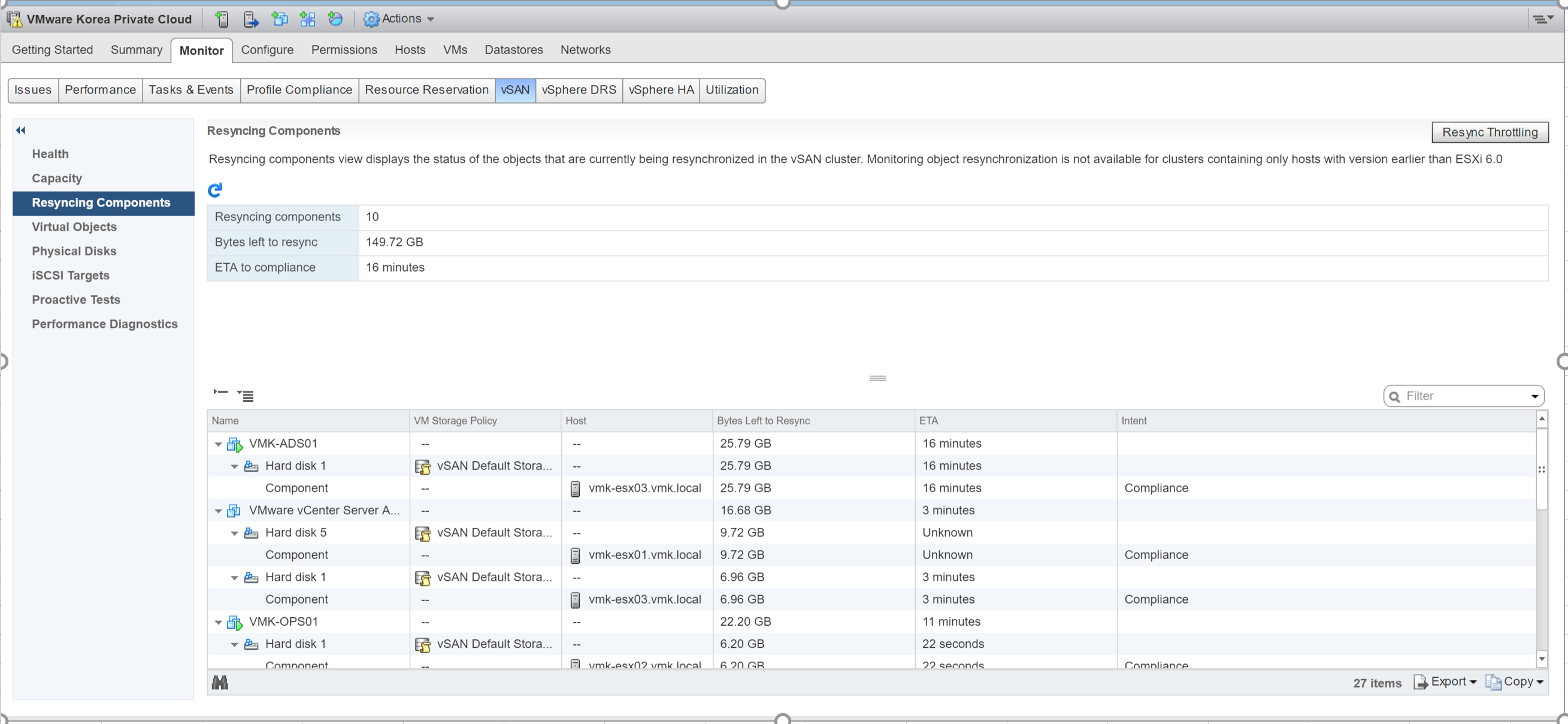 실제 하드웨어 상태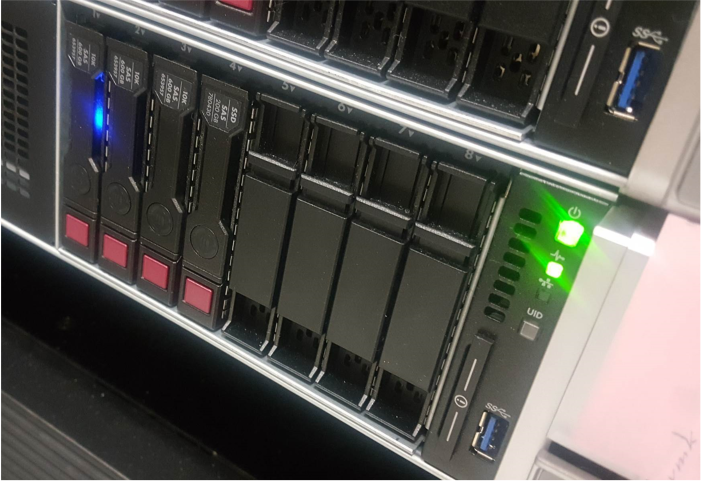 위와 같이 LED Blinking 이 정상적으로 작동하는 것을 볼 수 있습니다.  실제 장애상황에는 위와 같이 LED 가 들어오는게 아니라, Drive Carrier 에 Amber 로 불이 들어올것으로 생각되네요.
그외에 Web client 상에서 LED turn on/off  기능도 잘 됩니다.
다음링크도 참조하세요.
https://docs.vmware.com/en/VMware-vSphere/6.5/rn/vmware-vsan-661-release-notes.html